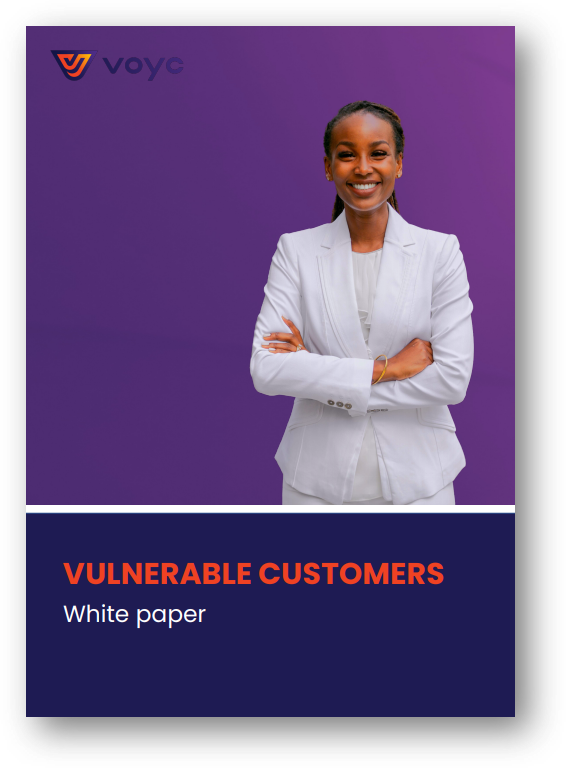 Understand who the vulnerable customers are in your business, and maximise your ability to treat them ALL fairly.
Ensure FCA compliance by learning how to better identify and respond to vulnerable customers in your contact centres. With conventional call monitoring, companies are only equipped to monitor 2% - 5% of their contact centre calls effectively.
Voyc monitors 100% of calls and delivers alerts for immediate action.
The UK's FCA defines a vulnerable customer as: "someone who, due to their personal circumstances, is especially susceptible to harm - particularly when a firm is not acting with appropriate levels of care".
Why download the White paper?
It's always been important for responsible insurance companies to consider and respond to vulnerability, but its more important now than ever. The pandemic has dramatically increased the number of people classed as vulnerable. Regulators are applying more pressure on financial services companies to spot vulnerable customers and demonstrate that they are treating them fairly. Signs of vulnerability are often evident during contact centre conversations - but not always identified by agents or conventional QA processes.
Understand why treating vulnerable customers fairly is now a major regulatory and moral focus for financial services providers. How can you massively improve the chances of noticing and responding to signs of customer vulnerability?


Learn more about the 4 key drivers influencing vulnerable customers and how you can predict likely vulnerability categories in your own business, using the FCA's definition of a vulnerable customer.
Learn how a speech analytics AI solution can support your managers and QA team in identifying calls where a customer needs additional attention due to a vulnerability, and ensure you remain compliant, while reducing stress amongst your agents.


Learn how Voyc can help you monitor 100% of your contact centre calls to maximise your ability to treat vulnerable customers fairly, and improve the effectiveness of your vulnerable customers policy.
So, what are the 4 key drivers influencing the risk of a customer becoming vulnerable?
Health
Conditions or illnesses that affect one's ability
to carry out day-to-day tasks.
Life events
Such as bereavement, job loss or
relationship breakdown.
Resilience
Low ability to withstand financial or
emotional shocks.
Capability
Low knowledge of financial matters or low confidence in managing money (financial capability). Low capability in other relevant areas such as literacy or digital skills.
A recent study published by Capital One, underpinned by the 4 key drivers, identified 10 core behaviours linked to more than 69 potential vulnerabilities to look out for in contact centre conversations.
Understanding how an individual's vulnerability can affect their financial credit journey, we can prevent poor outcomes. By doing this, we also help customers who might not have mentioned, or even known, that they have a vulnerability. Below are the 10 associated behaviours:
Difficulty concentrating / Lack of attention to detail
Low confidence / Fear of new things
Highly charged emotional response
Lack of access / Inability to engage
What's more, Voyc provides detailed analytics on topics and phrases that occur frequently in calls with customers. It can report on the tone of conversations and highlight any mandatory phrases that an agent might fail to mention.
Proactively avoid causing harm to customers and demonstrate FCA compliance in how you are identifying harm.

Voyc uses accurate models to detect the 70+ potential vulnerabilities in customers and correlate these to the appropriate behaviours.
Maximise your ability to treat vulnerable customers fairly
Voyc has already compiled a comprehensive database of keywords and phrases that could indicate that the customer displays signs of vulnerability.
Be instantly alerted of high-risk compliance breaches, customer complaints or when a caller displays signs of vulnerability.

​With Voyc, you can monitor 100% of calls through all your customer contact centres, from sales to claims. This lets you alert your quality assurance team
and contact centre managers, without delay, to calls indicating any form of customer vulnerability.

Have full visibility into your contact centres without having to check-in repeatedly with agents. Voyc's Conversational Analytics software gives you a time-sliced birds-eye view of what is said in 100% of calls, giving your company the ability to quickly identify vulnerabilities in the form of topics, keywords, and emotions. The ability to navigate directly to the moment in a call and listen, within two clicks, allows the company to have quick access to the full context of the situation at hand, and therefore the ability to deal with it more appropriately and sensitively.

Voyc saves valuable time because it highlights the precise parts of a call that need to be assessed. Have your team spend far less time on manual work and listening to recordings - and more time adding value through delivering better feedback, coaching, and training to your call handling agents to reduce the potential for vulnerable customers to be negatively impacted by the fact that they did not get the additional attention that they needed, timeously.

Clicking on any alert instantly replays that part of the call containing the keyword or phrase
What Do We Do?
Voyc Analytics Software can help your business automatically identify interactions of regulatory importance, such as complaints and vulnerable customers, as well as create operational capacity to focus on business improvements that drive positive customer outcomes. We provide everything you need to train agents to improve and handle these interactions more effectively.
In addition to vulnerability, you may also wish to monitor:
Complaints
Including escalation requests ("Put me through to a manager") and
intention to report an issue on social media.
Script Adherence
Ensuring that calls are fully compliant for content, risk warnings and
mandatory disclosure.
Sales Completion
Highlighting cases where the customer might not have firmly
agreed to the contract, for example.
Lapse Prevention
Spotting and taking action on calls that suggest the imminent
defection of a valuable customer.
From the moment you choose to implement Voyc, you could be monitoring 100% of your contact centre calls in as little as one day.
Client: Momentum Life
How Voyc helped an insurance company spot a valuable idea from a vulnerable customer…
The Context
Momentum Life is a leading life and pensions company in South Africa. They've been enjoying the support of Voyc since 2020.
An elderly customer had a sudden need to access her pension fund with Momentum and had received various forms to complete, which she needed to take to her bank. This was a potentially stressful situation that could make her vulnerable.

Voyc alerted the Momentum team to this lady's call, in which she said: ".. for elderly people, I advise that you make the font on your forms bigger and simplify it, because insurance is taken out when you are younger but the benefits are only taken out when you're older".

Esther Nkosi, Momentum Life's Head of Client Care and Client Experience said: "The Momentum team were so happy to receive that feedback of something to look at potentially improving in the future, as well as an opportunity to meaningfully bond with that client over her experience".

Voyc's CEO, Matthew Westaway, sums it up: "It's been an incredibly enriching experience to add value to a sector as important as financial services".
"Up until now, insurance businesses had only two choices: (1) Hire larger QA teams and accept significantly higher salaries and office costs, or (2) listen to a fraction of calls, while accepting higher risk and usually lower customer satisfaction. With Voyc, there is a third option: Scale your QA without increasing costs." — Stanley Kumalo, Head of Momentum Life Service
"Voyc was fast and painless to set up, configure, assess risks, and ultimately resulted in happy business users." — Paul Steyn, Head of Systems Architecture at Momentum Metropolitan
"Managing risk and being able to offer exceptional customer service is critical to any insurance business. The support of Voyc is a competitive advantage for the healthy growth of the company." — Anton Keet, Head of Risk Services at 1Life
"I have seen nothing like this. Most digital QA solutions are only measuring the tone of the conversation - I have seen nothing that checks for compliance phrases like Voyc does." — Wynand Olivier, Partner Legal & PR at King Price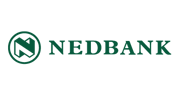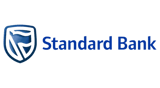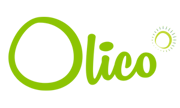 Voyc is a proud member of the CCMA, Protect Association
and other industry associations



In the face of increasing regulatory pressure and consumer distrust, it becomes more imperative for financial services companies to monitor 100% of customer interactions.
Identify various types of customer vulnerabilities that can be spotted in contact centres calls.
Maximise your ability to treat vulnerable customers fairly

to offer the ideal customer experience and increase loyalty sentiment.



Avoid customer dissatisfaction and the expense of repeated callbacks.
Improve efficiency of your support team & reduce stress on agents.
Learn how a speech analytics AI solution can support your managers and QA team in identifying calls where a customer needs additional attention due to a vulnerability, and ensure you remain compliant.